Domino XL DF 700 Imperial Height Gauge
In stock
Product Add-ons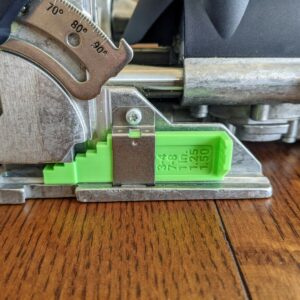 Add to cart
19.95
$14.95
Product Details
Shipping
Domesitc Shipping
Standard Domestic (3-5 days): Free
Express (2 days): $9
Worldwide Shipping
Canada: $16
EU coming soon.
Domino XL DF700 Imperial Fence Height Gauge
The default height gauge included with the DF700 allows for 5 height positions, we have made three models to accommodate some of the most popular offsets.
Model 1: Fence Indexes of – 5/8″, 3/4″ 7/8″ 1″, & 1-1/8″
Model 2: Fence Indexes of – 1″, 1-1/8″, 1-1/4″, 1-3/8″, & 1-1/2″
Model 3: Fence Indexes of – 5/8″, 3/4″, 1″, 1-1/4″, & 1-1/2″
Indexing off of DF700 fence height
The Domino XL 700 includes a "height gauge" where the dimension indicated on the gauge is the actual distance from the fence to the cutter centerline. This is different from the DF500 "thickness gauge" where the dimensions on the gauge are meant to indicate your material's total thickness.
The dimensions shown on the DF700 Imperial Gauge indicate the distance between the fence and the cutter centerline, not the actual board thickness. You can double the gauge reading to get the board thickness reading.