Festool Dual Battery Charger TCL 6 DUO
January 31, 2023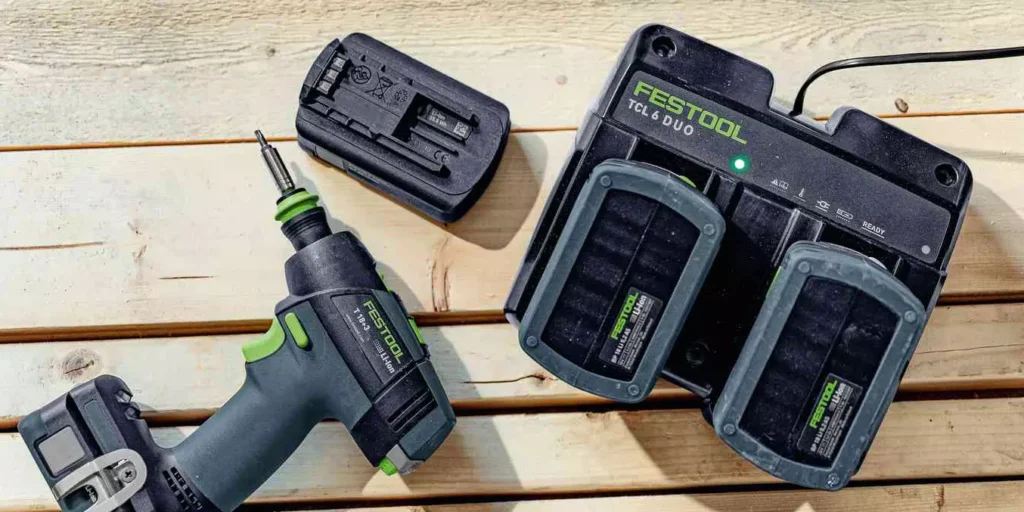 Festool announced the upcoming release of their dual 18v charger this upcoming fall. This has long been overdue, with Makita and Dewalt having dual chargers going back years. With Festool expanding their tool line up with more tools using their 2x 18v batteries to deliver 36v of power, the dual charger is becoming necessary.
Currently, Festool's only 36v tool, which runs off of 2 18v batteries, is the Festool TSC 55 track saw. Still, this fall, they are releasing their new cordless Kapex, which also runs off the same 36v system powered by two 18v batteries, along with cordless CT shop vacs running off the same dual 18v batteries delivering 36v of power. When using tools that require two batteries having a dual charger is an excellent accessory to have so you can quickly charge two batteries at once rather than having to carry around two chargers and take up two outlets.
Festool's new rapid charger TCL 6 Duo can charge 2 x 18v batteries at once off one outlet. The release date is this September in Europe with it coming stateside early in 2023.
Ideal for tools with an 18 V dual battery system: The two battery packs can be quickly charged again at the same time
Covers a range of voltage classes: Suitable for all battery packs from the 10.8 V, 14.4 V, and 18 V classes (with the exception of: BP-XS for CXS/TXS 10.8 V)
Always informed: The separate LED display shows the charge status at both charging slots
Efficiently stowed: The cord holder on the housing and the device for wall mounting keep things tidy
Completely covered. Of course, the DUO rapid charger is also fully covered by Festool SERVICE
for charging two Li-ion battery packs at the same time