Festool Hose Sizes for CT Dust Extractors Explained
November 29, 2023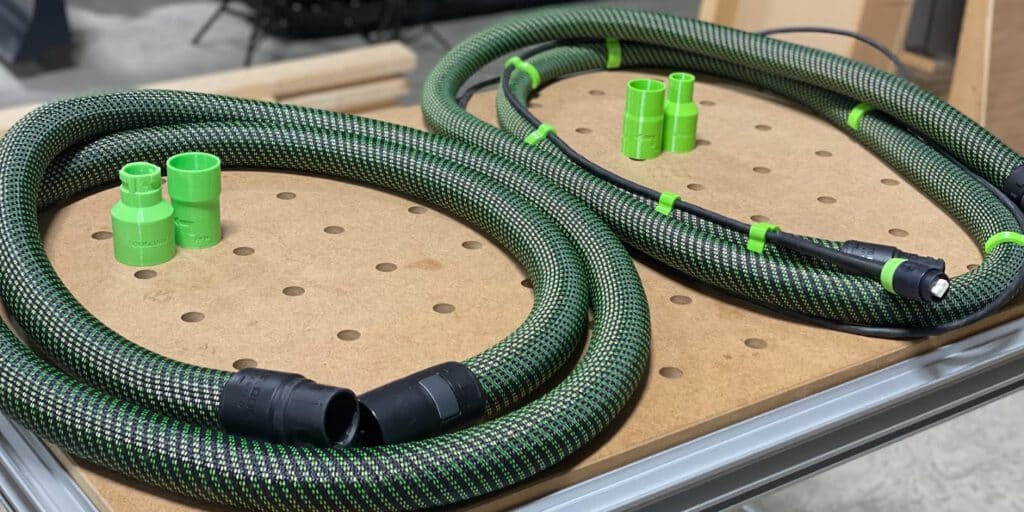 Festool shop vacs are some of the most popular dust extractors on the market. With the latest introduction of the Festool CT15, they are not more affordable than ever. With that, there is some confusion among some buyers with the Festool hoses and the different hose sizes.
Festool Hose Sizes
Festool hoses come in three diameters – 27mm, 36mm, and 50mm. The standard size is the 27mm hose and it comes standard on all Festool CT Dust Extractors. All tools will accept the 27mm hose, the smaller ports will go in the ID of the hose while the larger tool ports such as the track saw or the Kapex miter saw the 27mm hose will go inside the port. The 36mm hose is an optional accessory that a lot of users like when using bigger tools as it provides extra airflow for better dust collection. The largest of the hoses is the 50mm hose, this hose is more designed to connect your smaller hoses and daisy chain them.
Festool Hose Types & Adapters
The sleeved green hoses are Festool's anti-static hoses which are resistant to dust build-up, shocks, and clogging. The sleeved anti-static hoses come in both 27mm and 36mm versions and the 27mm version comes standard on almost all Festool vacs except for the CT15.  The CT15 being the entry-level vac comes with the grey standard hose which is Festool's cheaper line hose but still works very well.
Festool hoses work great with all the Festool tools, but when trying to use your dust extractor with your other tools such as your Makita or Dewalt router and pretty much any non-Festool dust port you run into dust port size issues. That's why we make different hose adapters for almost every tool so you can use your Festool dust extractor with your other brand tools. The 27mm hose has a twist lock feature which all of our hose adapters are designed for so have a secure tight fit.